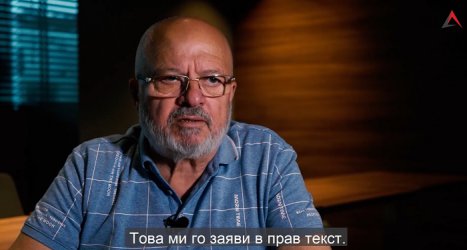 In an interview from the NGO Anticorruption Fund, Bulgarian entrepreneur Ilia Zlatanov revealed the connections between former investigator Petar "Petyo the Euro" Petrov, Delyan Peevski and the Specialized Prosecutor's Office as part of an attempt of company theft of the companies from the Izamet group. Izamet is the largest lift manufacturer in Bulgaria. Zlatanov lives outside Bulgaria since April 12 2020.
The stunning tale begins three years ago when Zlatanov enter in a fight with his wife and son over the ownership of the companies, whose annual turnover is over 10 million euro.
Zlatanov informed the institutions in an attempt to help with the resolve of the conflict and even told the National Revenue Agency to audit the company. The NRA told him they had no resources to spare on such an audit. On June 25 2019 his son and a bailiff enter the premises of Izamet's factory in Dupnitsa. The two present documents, which state Izamet's ownership has been transferred to a company by the name of K Korektion. The factory ceases operation at this point.
A friend of Zlatanov's approaches him and says he knows someone who can help him, but that he is pricey. Zlatanov agrees and his friend takes him to a restaurant in Sofia – The Eight Dwarfs - to meet this person. It turns out to be former investigator Petar Petrov, known as Petyo Evroto (the Euro), who has since become a lawyer.
Petrov was head of the Specialized Investigation Office back in 2016. He was going to be dismissed on disciplinary grounds, but then-Prosecutor General Sotir Tsatsarov prevented this and directed the Supreme Judicial Committee to vote his resignation instead.
After the meeting, the state institutions suddenly becаme active on the case. Zlatanov files an extortion complaint, and is called for questioning the very next day. The specialized prosecution brings six charges of extortion, unfavorable deals, embezzlement and money laundering. His wife's home is raided, officers confiscate millions in euro banknotes and gold.
The same day Zlatanov is given a document to sign. He is to pay 2,86 million leva to Petar Petrov's wife, Lyubena Petrova by November 30. Petrova is known for organizing demonstrations against then-Minister of Justice Hristo Ivanov (today leader of a non-paliamentary opposition coalition Democratic Bulgaria) in 2015 and demonstrations in support of then-Prosecutor General Sotir Tsatsarov in 2016.
Zlatanov signs another agreement: that they will pay him back but half of the sum would go to Petrov as attorney fees. However, Petrov never signed the document.
In September they contact him again and propose to split the confiscated gold – which is worth four million euro - 50:50. After this offer, the communication enters a halt, explained by one of the lawyers assigned to him with the appointment of the new Prosecutor General, Ivan Geshev: they were swamped with all the demonstrations and protests in favor of Geshev, which they organized, she had told Zlatanov.
Then, in December Petrov calls Zlatanov again. Petrov requests Zlatanov to transfer his shares of Izamet. The reason? Delyan Peevski wanted a lift company so he can take part in the program for mass lift modernization, which will be financed by the EU. Petrov told Zlatanov that the K Korektion, which at this point owned the assets, had been already sold to an associate of Peevski.
From this point onwards Zlatanov was not let inside any of Izamet's factories or properties. Zlatanov was assigned two guards, who never left his sight. The guards gave bi-hourly updates on where they were, what Zlatanov was up to, etc., to their boss, the head of the security firm Delta Guard.
On January 15 Petar Petrov told Zlatanov that unless he transfers all his shares to him, Zlatanov will end up in prison and his son – who is in jail at the time - will never come out.
On March 20 Zlatanov is in the factory in Dupnitsa. One of the lawyers contacts him:
"…Kotseva tells me to get to The Dwarfs at once. They take me to the second floor. Four people are there – Petrov, his wife, Kotseva, and another lawyer. They told me the latter was there to protect my son's interests."
They tell Zlatanov that his son has been kept off dialysis for three days and is beginning to have seizures.
"Go to the Government Hospital and sign the papers. You know what you have to do. Or else – you will go to prison and he will die," Zlatanov recalls.
Zlatanov recalls another noteworthy remark:
"We took care of the Scull, you will vanish like a spec of sand in the desert!"
They are referring here to Vassil 'The Scull' Bozhkov. A billionaire, owner of the largest private lottery games in Bulgaria before the government suddenly monopolized the sector in December 2019. The Prosecutor's Office brought 18 charges against Bozhkov, who is currently residing in Dubai. Bozhkov has since accused the highest-level government officials, including PM Boyko Borissov, that Bozhkov paid about 60 million leva in total "comfort fee" to him and others. Bozhkov provided a number of bank statements showing he withdrew millions in cash from his personal accounts, which have gone entirely unnoticed by authorities, although withdrawals of much less should be checked as per anti money laundering laws.
The Anticorruption Fund released the story of Zlatanov June 24, but several days earlier, one of the investigative journalists at the fund, Nikolay Staykov, said he had been terrorized over the phone and his home – vandalized. Different people from different numbers had been calling his personal number non-stop, asking information about coffins and "isn't this "Funeral Home Staykov?". Last Thursday night someone egged his home, as well as the home of him and his family's closest relatives, where Staykov's kids spend the weekends. The two addresses are 20 km apart.
Полезна ли ви беше тази статия?
Ще се радваме, ако подкрепите електронното издание Mediapool.bg, за да може и занапред да разчитате на независима, професионална и честна информационно - аналитична медия.
Подкрепете ни
Абонирайте се за най-важните новини, анализи и коментари на събития от деня. Бюлетинът се изпраща до електронния Ви адрес всеки ден в 18:00 часа.
Абонамент