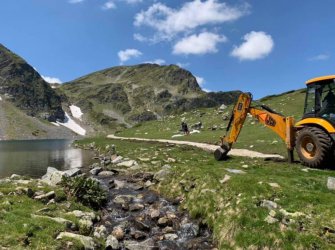 Last week tourists took to social media and posted alarming photos of heavy machinery in Rila mountain, near the famous Seven Rila Lakes. The images immediately made headlines, which compelled the director of Rila National Park to explain the presence of the digger close to one of the lakes.
Krassimir Andonov told the Bulgarian National Radio that "this is an emblematic region and it attracts a lot of tourists. Especially [in the summer months] the stream of tourists is very large." He went on to explain this has led to erosion in the region and in order to counter this process, the park authority has decided to make paths from gravel, which the tourists will be obliged to take, thus ensuring the rest of the territory is free from people crossing.
In 2009 a consortium between Rila Sport and Sapareva Banya Municipality built a new lift to Rila Hut, in the area of the lakes. The lift sparked a lot of controversy, both because the lift meant the human presence in the area will immediately spike in quantities which would be dangerous for the preservation of the protected area, but also for alleged legal violations in the project's approval process and construction. Green NGOs officially informed the Prosecutor's office of a number of violations, including lack of environmental impact assessment of the project, but ultimately state prosecutors did not pursue the case.
The immediate backlash and criticism following the news of the 12-million-leva project for gravel pathways compelled PM Boyko Borissov to order the activities to stop. The Chairwoman of the Environmental Parliamentary Commission Ivelina Vassileva said an inquiry will examine whether the project and procedures leading up to its approval is in line with the law. She herself expressed bewilderment at the heavy machinery to the media.
Environment Minister Emil "Revizoro" Dimitrov went to the site to personally take a look and also said an assessment must determine whether the project is lawful, and if the project should be stopped altogether due to the violations regarding diggers in the area. It remained unclear how these activities apparently went on unnoticed by the authorities.
Today Dimitrov expressed concern that the funding allocated for the project, which comes from the European Commission's operational program "Environment", could be lost.
The Supreme Administrative Prosecutor's Office has called for a full audit and information regarding the beneficiary, permits, orders, etc. The director of the park said he does not know who the contractor is.
Полезна ли ви беше тази статия?
Ще се радваме, ако подкрепите електронното издание Mediapool.bg, за да може и занапред да разчитате на независима, професионална и честна информационно - аналитична медия.
Подкрепете ни
Абонирайте се за най-важните новини, анализи и коментари на събития от деня. Бюлетинът се изпраща до електронния Ви адрес всеки ден в 18:00 часа.
Абонамент