Latest Report by Reporters Without Borders (RWB) Reveals Bulgaria Further Sinks in the World Press Freedom Index (WPFI)
Bulgaria has dropped several positions in the WPFI to 111th place. Bulgaria is now not only far behind all EU members but also last in the index among all Western Balkan countries as well, some of which as RWB reminds are candidates for EU membership.The main factor for the speady decline of press freedom over the past years according to the report is DPS MP and media mogul Delyan Peevski.
"Corruption and collusion between media, politicians, and oligarchs is widespread. The most notorious embodiment of this aberrant state of affairs is Deylan Peevski, a former head of Bulgaria's main intelligence agency and owner of the New Bulgarian Media Group. His group has six newspapers and controls nearly 80% of print media distribution. The government's allocation of EU funding to certain media outlets is conducted with a complete lack of transparency, in effect bribing them to go easy on the government in their reporting or refrain from covering certain problematic stories altogether. Threats and attacks against journalists have intensified in recent months. It can prove dangerous to be a journalist in Bulgaria."
DPS MP Yordan Tsonev was quick to reply to the report during a TV interview, saying that RWB's report smears the country. He also suggested that RWB's assessment might not be accurate. He pointed out that RWB is an NGO and the situation should be evaluated by Bulgarian journalists themselves.
This position is fully in line with the coverage that media outlets owned by Peevski, which all deemed the report and RWB "paid". Tsonev also pointed out that the report 'had gaps', namely that it did "not mention a word about the founders of the corporate editions Ivo Prokopiev [Capital Weekly, Capital Daily and Dnevnik Daily co-owner] and Sasho Donchev [co owner of Sega Daily].
Mere hours after the report was made public, it ws announced that the American owned company Nu Image Inc, which acquired the National Film Company in Boyana in 2005, is going to become Peevski's business partner in his media empire. According to the press release, Nu Image will own 50% of Telegraph Media's assets. Telegraph Media is the company that publises the papers Telegraph, Monitor, Politics, Meridian Mach and is share-holder in the regional media Izdatelska Kashta Borba. The deal is to be signed after the Commission for Protection of Competition (CPC) approves the deal.
Nu Image Bulgaria is part of the American company Nu Image Inc., which acquired the Boyana National Film Company in 2005. On Bulgarian territory it operated under Nu Boyana Film Studios. Nu Image is managed by Avi Lerner, while the Bulgarian office's CEO is his son, Yariv Lerner.
It is not yet clear what motivated the interest by the film company to go into the Bulgarian news publishing business. Initial commentary by observers and analysts suggest that Peevski seeks to clean and straighten his image while the film company is counting on Peevski's influence in the government to recieve tax reliefs, for which has long since insisted.
Mayor of Mladost Arrested on Allegations of Corruption
Dessislava Ivancheva arrested in the center of Sofia
Dessislava Ivancheva was arrested April 17 and held in cuffs for hours in the center of Sofia following an operation by the Commission for Countering Corruption and Confiscation of Illicit Assets (KPKONPI).
The mayor of Mladost municipality in Sofia won the local elections in 2016 running on a platform dedicated to ceasing the massive expansion of construction projects in green spaces in Mladost. She was arrested April 17 during an operation that was deemed by observers a grand spectacle arranged by the Prosecutor Office and KPKONPI: she was held for about five hours on a busy intersection in the center of the city, in front of the Ministry of Sport and Youth, handcuffed and surrounded by a few dozen masked officers. During this time bystanders and media had the opportunity to freely film and take pictures of the arrest, which Channel 3, a TV channel close to Movement for Rights and Freedoms (DPS) MP and media mogul Delyan Peevski, took and produced a live coverage.
The arrest was made on allegations that Ivancheva had taken a bribe of 70'000 euro, which, according to investigators, was an initial payment of a total of 250'000 euro. Ivancheva had allegedly taken the bribe in return for issuing a construction permit in Mladost. Many observers commented that the operation was designed to be but a public lynch of Ivancheva, who had crossed some prominent – and possibly shady – interests in the construction business. The arrest in fact took place the day before she and her deputy Bilyana Petrova – also arrested April 17 – were to give a press-conference entitled "Plans for Construction Development in Sofia Green Spaces", together with representatives of the Greens (political party), "Green Mladost Association" and others.
Immediately following the arrest, colleagues of Ivancheva and Petrova's from Mladost Municipality, who manage her Facebook account took to social media to protest the arrest and declare that the whole thing was a well-orchestrated scheme and that the bribe allegations are entirely false and unfounded. They also threatened to sue the state in Strasbourg for the way which the authorities had gone about the arrest, claiming they had violated her human and civil rights.
The chiefs of the Special Prosecution and of KPKONPI Ivan Geshev and Plamen Georgiev were to give a press briefing the next day. During the briefing Geshev said that the 70'000 euro with which Ivancheva had allegedly been caught had been marked and, citing a fellow investigator – "Ivancheva lit up like a Christmas tree", referring to the results of the tests that are done afterward to establish whether the material used to mark the bank notes is present on the defendant's person. In full contrast with protocol, this test was done at the site of the arrest, while Ivancheva stood outside the Ministry of Sport and Youth.
Geshev announced that this is the largest sum of money that they had ever caught and that according to their investigation, Ivancheva had initially asked for 1,1 million euro. The bribe was meant for Alexander Vaklin, whom Geshev initially described as "an entrepreneur with a European demeanor who Ivancheva blackmailed". Answering reporters about his mentioning blackmail, Geshev specified that he had not meant it in the "judicial" sense but rather in a "life world sense". February 2018 Vaklin had agreed to help the investigation, which Geshev said had begun in December 2017. Vaklin had also agreed to secure the 70'000 for the operation.
Geshev explained to reporters that the reason it was necessary for the two women to stand for 5 hours on the open handcuffed behind their backs was because that way "they couldn't touch anything", which in his words was essential for the tests with the marking material that would follow.
The court hearing was next Friday, April 20. The defendants were held inside a sound proof glass cube which made it extremely hard to communicate through. In fact Ivancheva held a prewriten piece of paper against the glass, in which she claimed innocence.
During the first court hearing behind sound proof glass
During the hearing the court declared that the prosecutors case is sound and will move forward. Although, while the main witnesses and evidence were listed, several witnesses were cited claiming Ivancheva's alleged accomplice had asked multiple times for bribes on her behalf but not one instance was cited of Ivancheva asking for a bribe herself, including with regard to the particular case of Valkin's bribe.
On 26 April the Special Court of Appeal confirmed that the evidence against Ivancheva and Petrova are overwhelming and sanctioned the case to move forward. The Special Prosecution annexed 10 tomes classified evidence, which had been collected using Special Investigative Tools. Some of these were video footage of the alleged accomplice Petko Dyulgerov taking a package from Vaklin but none had Ivancheva on them. The prosecution argues that it is without a doubt that the three were scheming together. However, as some media and observers have pointed out Petko Dyulverov is a person close to the Bulgarian National Movement (VMRO), which is part of the ruling coalition, against which Ivancheva ran for office.
Democratic Bulgaria (DB) Calls for Chief Prosecutor Sotir Tsatsarov to be Punished for Remarks Made Regarding Dessislava Ivancheva Arrest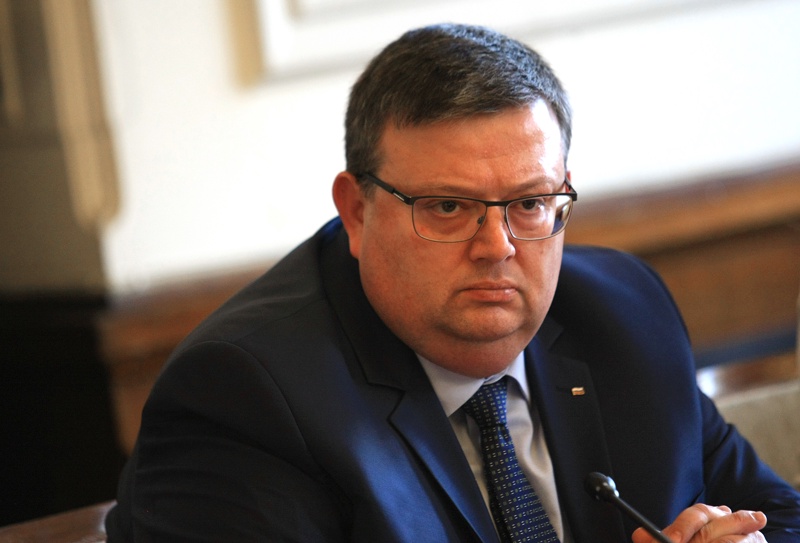 Chief Prosecutor Sotir Tsatsarov
The newly formed non parliamentary coalition, consisting of three pro-reform parties,DB, have called for a disciplinary punishment of Chief Prosecutor Sotir Tsatsarov for making political remarks during the arrest of Mladost Mayor Dessislava Ivancheva. He took the opportunity at the time of the arrest to say that this arrest, which demonstrates a "working Prosecutor Office and Anti-corruption Commission has rendered one little screechy non-parliamentary party redundant". He was most likely referring to DB as the coalition (and prior to its establishment, the parties that make it up) have been highly critical of the Bulgarian Prosecution Office in general and of Tsatsarov in particular.
"There are parties that are always critical of the Prosecutor's Office when it's not active and now it turns out that the criticism remains also when the Office acts."
He continued by saying that those same parties applauded Romanian authorities when they arrested politicians for corruption, apparently making the point that Ivancheva's arrest corresponds to the so-called Romanian model. This also bares the underlying sense that as the existing institutions deal well with instances of corruption as is, this renders unnecessary the establishment of a similar structure to the Romanian National Anti-corruption Directorate here in Bulgaria.
"Suddenly similar events [to the ones in Romania], even on the smallest of scales, does not fit into those parties' plans. Frankly I understand them. These people have not had to ever hold a job even for a day. Most of them have lived and continue to live off grants. The threat of those grants halting is one way we can explain their reactions now".
DB have submitted a request to Minister of Justice Tsetska Tsacheva saying that "commentating the usefulness of political parties and whether they should or not exist is a political act".
DB reminds that while the Political Parties Act permits the Chief Prosecutor to put forward opinions in the court of law, this instance is not the case.
"[Tsatsarov's commentary] is a direct violation of the The Code of Ethics for the Behaviour of Bulgarian Magistrates, specifically [Aricle 9.2 of Vection IV, which states] "The magistrate shall not participate in whatever way in party or political activity and shall not become involved in political or business circles of influence"".
Court Decision in Line with Eco Activists' Assertions about Pirin National Park Management Plan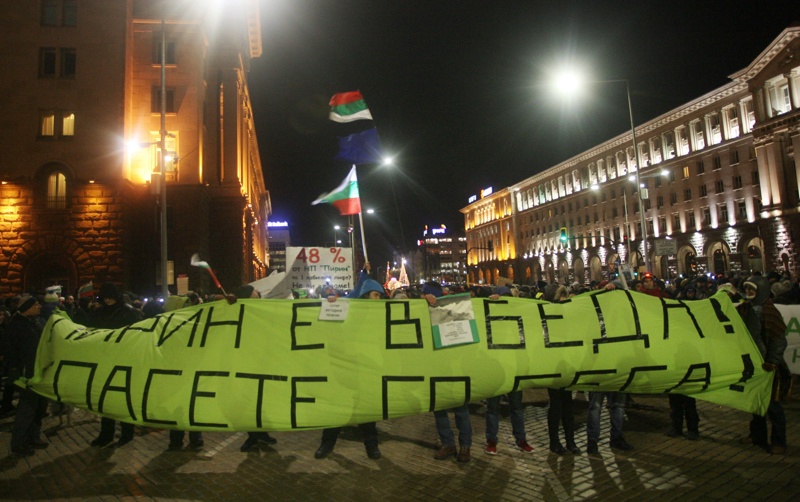 Protests against management of Pirin National Park, early 2018
The High Administrative Court overruled the decision made by provisional Minister of Ecology Irina Kostova March 1 2017 according to which the new Pirin Park Management Plan does not require an assessment of the environmental impact for its implementation. The decision can be appealed within 14 days by the Ministry of Ecology. The decision in effect matches environmentalists and environment activists that new or amended management plans for national parks should be subjected to an assessment of environmental impact as well as an assessment of the impact to protected zones part of NATURA 2000, which in the case of Pirin are one and the same with the territory of the park.
President of The Alliance of Liberals and Democrats for Europe Party Calls for Borissov to Remove Coalition Partner
Yunal Lyutvi (DPS), Mustafa Karadajly (DPS) and Hans van Baalen (ALDE)
The president of The Alliance of Liberals and Democrats for Europe Party (ALDE) Hans van Baalen met with the leaders of the Movement for Rights and Freedom (DPS) in Sofia Friday. During a press briefing afterward he called on Prime Minister Boyko Borissov to remove the far-right nationalists ATAKA from the ruling coalition. ATAKA's leader, Volen Siderov, was on a visit to Yalta last week where he announced that Crimea was never annexed or occupied by Russia.
"Crimea was never annexed or occupied, as those employed in the hybrid warfare, who are against its joining Russia keep saying."
"ATAKA sent observers to Crimea during the referendum and we saw that the people truly want this", Siderov added.
In Sofia Hans van Baleen said that Boyko Borissov must take responsibility for his coalition partner's words and remove him from power. Baalen stressed that we all want good relations with Russia but international law must be respected.
DPS leader Mustafa Karadajly took the opportunity to criticize the way the ruling party GERB has handled the situation and that they have let a coalition partner bash the international image of the country, stressing moreover that "with regard to important geopolitical matters there is no personal opinion", referring to the initial reaction of GERB following Siderov's comments in Russia, which was that no action is called for on their part as "Siderov was expressing a personal opinion and not that of the official foreign policy of the country".
New Bill Against Massive Sales of Lottery Tickets

Vice Prime Vinister Valer Simeonov (United Patriots) will submit a bill to Parliament for the restriction of sales and the indirect advertisment of lottery tickets. The newly formed political coalition Democratic Bulgaria (DB) has similar suggestions for legislative amendments.
It is not yet clear whether the main ruling party GERB will support Simeonov's bill. The bill will affect gambling companies such as the state-owned Bulgarian Sport Lotto, and the private companies New games, National Lottery and Eurobet with its Lottery Bulgaria, which are owned by Vassil Bozhkov. National news channels - BNT, NOVA, bTV - will also be affected as they stand to loose significant income from advertisement. According to data by Nielsen AdMosphere the National Lottery is the largest advertiser on TV channels for last year.
The new political coalition made up by several center-right parties that failed to get into parliament have proposed measures against massive sales of lottery tickets the lottery games that have gained an unprecedented popularity are predominately owned by the notorious businessmen and mogul Vassil Bozhkov. DB will push for reform that will limit these sales: the measures involve limiting advertising and restricting the spaces where the tickets could be sold (only in spaces specially dedicated to gambling as opposed to restricting sales only as regards to schools).
The market for lottery tickets is on a steady rise and has reached 345 mln lev in 2017.
An express poll conducted by Gallup International Balkan shows that 3 mln Bulgarians, or 57% of the population, play lottery games. People who purchase lottery tickets on a regular basis are about 300'000 who account for 5% of the population. This segment spend about 43 lev per month for tickets. Those who play the lottery sometimes spend about 21 lev per month and account for 19% of the population. A third of the population (1,8 mln) play rarely and spend about 9 lev per month. 86% of all who play the lottery have never won any sum of money they consider significant.
Полезна ли ви беше тази статия?
Ще се радваме, ако подкрепите електронното издание Mediapool.bg, за да може и занапред да разчитате на независима, професионална и честна информационно - аналитична медия.
Подкрепете ни
Абонирайте се за най-важните новини, анализи и коментари на събития от деня. Бюлетинът се изпраща до електронния Ви адрес всеки ден в 18:00 часа.
Абонамент